Dear Reader,
Hello and welcome to The Vault! Throughout the month of January 2022, I will be releasing previously unseen poetry collections and it's all free to read and download.
Check back to discover a new collection that I wrote and then kept in the back of my Google Drive when I moved onto something else. Which apparently I do a lot.
All of these collections are deeply personal and detail different parts of my journey. For years, I have kept them hidden out of a panic no one would care or find my experiences interesting or valuable. I realize now this has caused me to hide myself from a great deal of people and has resulted in my overarching assumption that people are willing to disregard my feelings and my work, without ever engaging with people or giving them a chance to make their own decision.
My writing is truly a vital part of who I am as a person. It might not seem like much (and maybe it's not), but the peace I have been craving for so long has yet to find me when I am silent. Of all the time I spend concerned with what every single person on the planet may or may not think of me, I am dedicating these releases to the voice I've stifled and the discomfort it will take to use it again.
-Star LaBranche
---
January 14 Release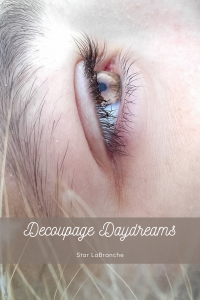 Stats
Written: 2017
Length: 67 pages
Genre: Poetry
Themes: Identity, family, body image, mental illness, love
Musical Influence: Robbie Williams – Escapology era
Credits
Text, Cover Design, and Formatting: Star LaBranche
Editing: Roderick Bates
Summary
I wrote Decoupage Daydreams as a chronicle of what was happening in my life at the time it was written. From seeing a therapist who consistently ignored issues I brought up during our sessions in order to fat shame me, to the man I was dating who sent so many confusing signals I never had a clear grasp of the relationship, to dealing with thoughts of self harm on a regular basis. Each element fits, or sometimes doesn't fit, into an endless collage of survival tactics and half-remembered heartaches.
---
January 21 Release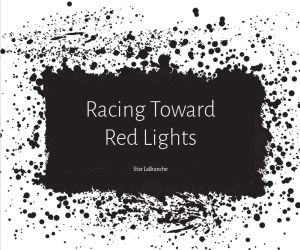 Stats
Written: 2017
Length: 20 pages
Genre: Poetry
Themes: Romance, dating, self-image
Musical Influence: None
Credits
Text, Cover Design, and Formatting: Star LaBranche
Summary
Racing Toward Red Lights is the companion book for Wake Me When It's Over. While in WMWIO, I tried to avoid discussing my thoughts on romance and dating, I finally had to write something and those thoughts became this chapbook. This is also my first chapbook using images and graphics. When I first saw it again after all these years, I wanted to redo the entire thing. But there's something charming about the dark, messy graphics, and words with the weight of the word on their shoulders. I got the idea for the title when my mom criticized me for driving so fast when the light ahead was red.
The poem, Barbie Wedding, was featured on the website, Poets Reading the News and includes an audio version.