Full Disclosure: This is not a paid promotion. Nina is my neighbor, but she's also just that damn good I had to write about her and all of her amazing photos.
So you're ready to publish your book and you need an author photo for the back cover. Okay, so let's be honest, no one needs an author photo for the back cover. Many books have been published and found success without a photo of the author. But you'd like one. And there's nothing wrong with that.
The best part of being a self-published author is that you don't have to sit for a boring black and white photo of you in a turtleneck looking over a shoulder. You can do so much more with your photos because you have complete freedom to pick how you want to be represented and how you want to set the tone for your work.
Here are my top tips for creating an author photo that doesn't just look good, it looks cool. Not to mention the shoot can also produce promotional material for your books, website, newsletter, and much more.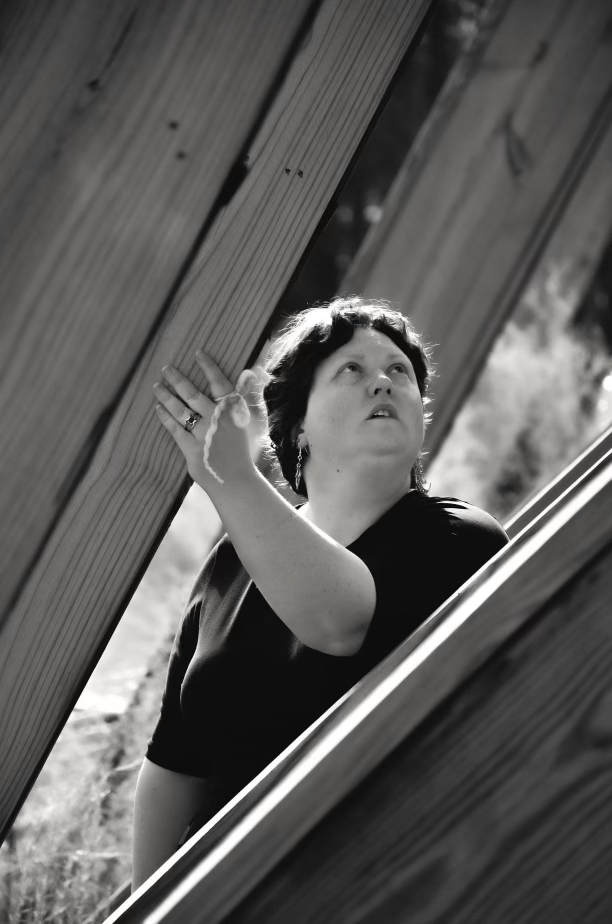 Finding the Right Professional
This was easy for me! My friend Nina lives next door and she happens to be the most amazing photographer who runs NB Photography in Suffolk, VA. I went with her not only because she is conveniently located, but because she is amazing at what she does. Her portfolio is diverse and I love her style.
I liked the NB Photography Facebook page and Instagram to see more of her work and I knew, this would be perfect. Also, it's awesome when I go to someone with one of my harebrained ideas and they don't look at me like I've lost the plot. When shooting your author photo and promo material, don't be afraid to go beyond the seated author photo and really capture the mood and feel of your book.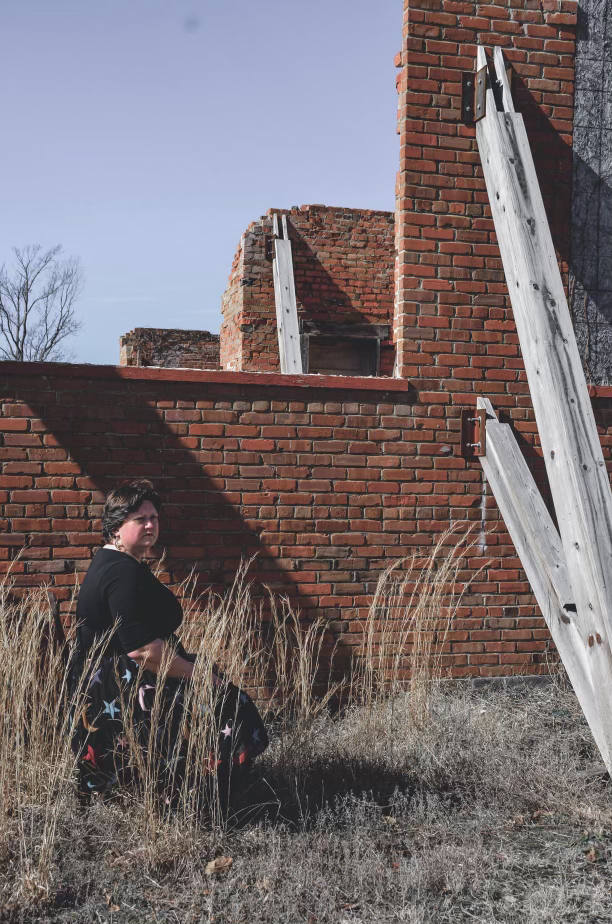 "But I'm Not a Model!"
I know what you're thinking and it's totally okay. I thought it, too. Once you find the right professional to work with, all you have to do is bring some ideas for poses, and your photog will do the rest. Working with Nina is always so great because it's a mix of me finding the pose that feels right and her giving me the direction I need to hit it just perfectly.
This isn't sitting for school pictures where they tell you not to move under any circumstances. Bring some movement to your pictures and listen to your photographer for suggestions on how to translate this to the photos.
Also, in my humble opinion, if you're worried about not looking like a model in the photos, don't. Put on an outfit that makes you feel great and get your butt in front of the camera. There are plenty of models out there and what the world needs is not more slender bodies gracing every surface.
Being fat, I often think about my size and how I look on camera. How could I not in the society I grew up in? But pushing myself to translate my vision into reality is more important to me than attempting to look like a size 2, when I'm really size 22.
If your fear of what the photos will look like is what's holding you back, and this can be a formidable force, push back as hard as you can. Because there are readers out there, including children, who need to see people of all kinds represented in media. You never know how much someone might need to see your photograph on the back of a book.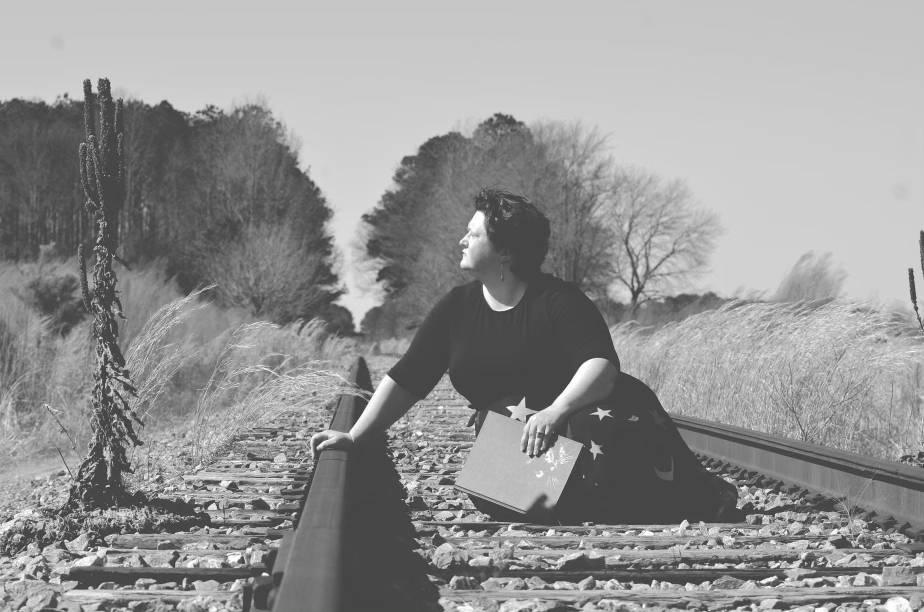 Come with a Vision, Stay for the Execution
Before contacting a professional, be sure to devise what you want the tone or message of the shoot to be and choose some locations (your photographer might also have some location ideas, so be sure to get their input).
Do you want to be photographed in the corner of a coffee shop, writing on your laptop like your character does in the romance novel you wrote? Do you just need a dark backdrop and the perfect mood lighting to convey your true crime book's dark nature?
For me, I knew that the shoot for moon lost her memory, my disjointed memoir (released date: late 2021), needed to be eerie, unsettling, and a surreal. I talked to Nina ahead of time about how I wanted to set the mood for the book in an industrial backdrop with just enough weird to make it interesting. She had some great ideas for where to shoot and how to capture this eerie tone.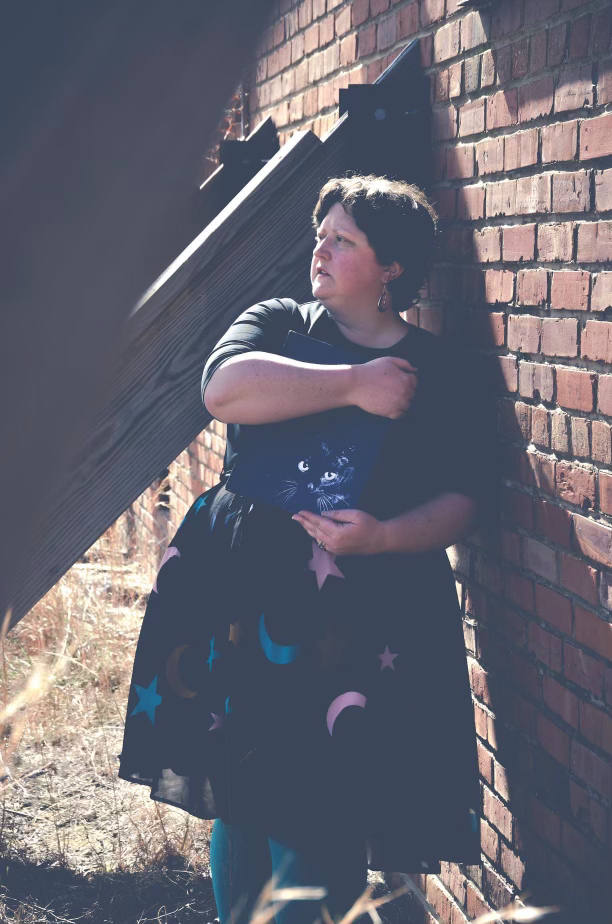 Props, Props, Props
Another fun part of doing a shoot like this instead of a boring author photo, is that you can incorporate some props that have special meaning to the book project or even to you.
That book I'm carrying above? It's a book called Beautiful Cats. I wrote a poem of the same name that appeared in the chapbook Wake Me When It's Over about this very book.
The story behind it is that my mother gave me this book one night when I was manic and couldn't sleep. She told me that looking at the pictures of cats would help calm me down so I could get to bed. It didn't work, of course. But I kept the book.
Now that book is in some of the photos for moon lost her memory. As a bonus, the cat face on the dark cover looks so intriguing in the photo.
Of course, don't go all Carrot Top with your props. Pick meaningful ones, use them appropriately, and don't be afraid to pose without anything at all.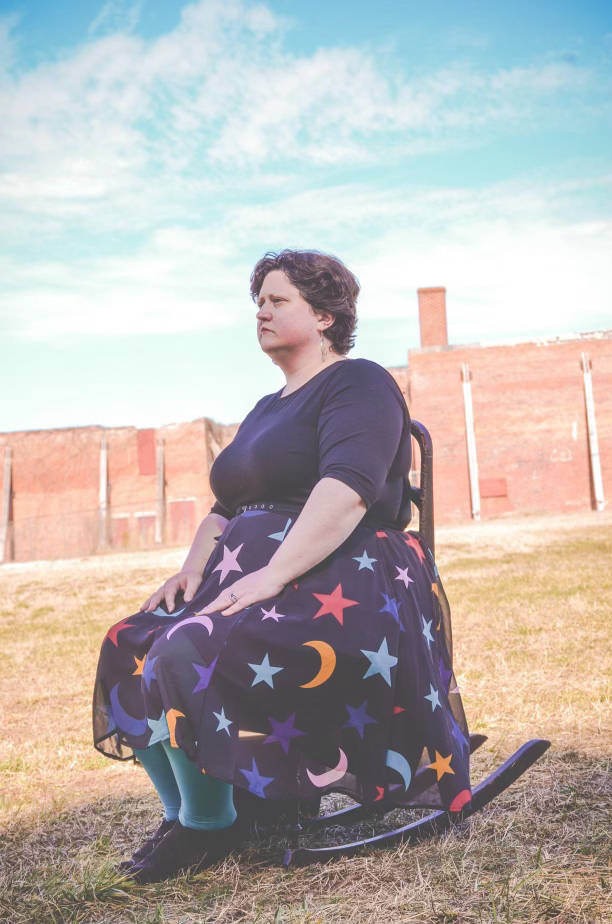 Picking Your Perfect Photo
When you get your photos back, going through them is tremendously exciting. Now you get to see what happened on the opposite end of the camera. If everything went well, you might be overwhelmed by how many great pictures you have and unsure of how to pick only one as your author photo.
I recommend you go with your gut. One photo might stand out as the clear winner, sometimes you have to narrow it down. Getting a second opinion can also be important. Ask a few loved ones what they think. You can even ask your editor, if you have that kind of relationship with them.
Also, think of how you can use all of the photos for promotional items, such as social media posts, website content, and much more. After all, you didn't take 200 photos so you can only use one. Since you have all of these photos and they are thematically representative of your work, they're the perfect images to use to promote your book.
Get your pics, have fun, and thanks again to NB Photography for the amazing pictures!