In a previous life, I used to review Bratz media for for my blog. Although I wrote about other girl-centered media as well (Barbie: Life in the Dreamhouse, Ever After High, Lego Friends, MyScene, just to name a few), the Bratz series became a focus. Pretty soon I knew way more about dolls, the toy industry, and Bratz lore than even I felt comfortable with.
Uh, I'm a grown adult, who are the Bratz?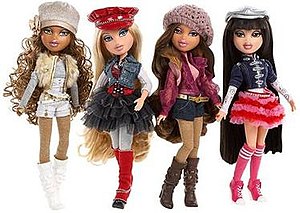 The show centered around the four main characters, who were also the first release dolls from the line back in 2001. Yasmin, Cloe, Jade, and Sasha were different from girl-next-door Barbie. They were hipper, cooler, and came wearing a full face of makeup, clad "urban" outfits (read: outfits popular in Black culture) so revealing it ruffled a great deal of feathers throughout the years.
Fun Fact: Yasmin is probably my favorite of the quartet. Because she's a "writer."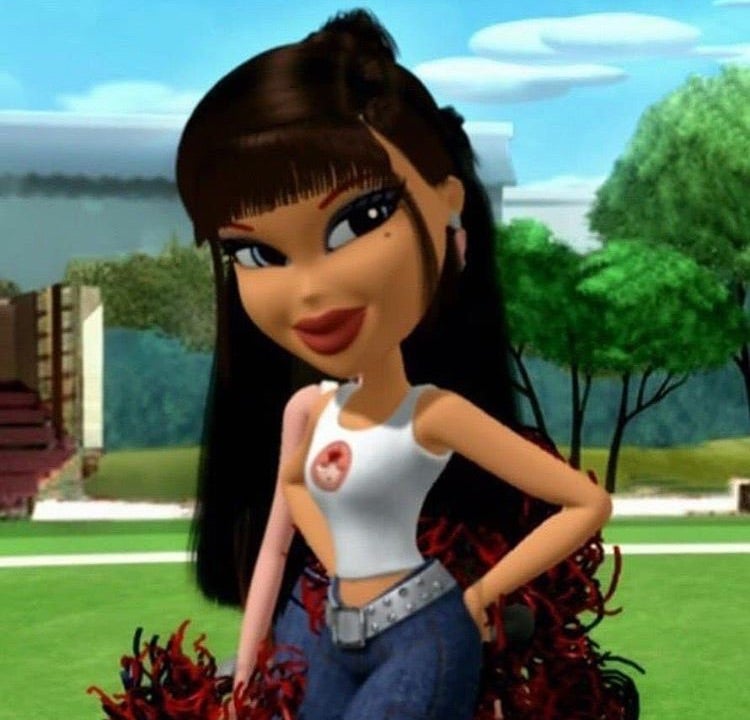 They were called the Girls with the Passion for Fashion, mostly by themselves. Their adventures on the small screen included several straight-to-DVD releases, two seasons of a Saturday morning TV show, and a live action film released in 2007. Which doesn't really follow much of the storyline from any of the films or episodes. Which, I would say it was a good thing, because those storylines were not so great.
Unfortunately, the storyline for the life action movie isn't exactly great either. So it's not like it was an improvement. It seemed like they were trying harder when it came to the script, but the end is a weird, disjointed mess where the villain character ends up being the most interesting and compelling person in the entire film. Also, she has better songs.
I said it.
But back to the animated media.
So why was this media just so bad?
The Bratz movies and TV episodes were typically poorly animated. Often they would color swap a character or just recycle minor characters across films to populate the Bratz' bizarre world. Which led to a great deal of unintentional comedy, such as when a rich male love interest in Bratz Rock Angelz (who turned out to be a jerk) apparently ended up falling into poverty and having to resort to becoming a weatherman on their TV show.
The plots were thin, at best. It would be completely fair to say the films were move focused on showing off the character's tie-in doll release looks than creating a solid story. When it came to Bratz, the staff at MGA wanted to make it painfully clear that you're either watching the film because you have the dolls or you want the dolls.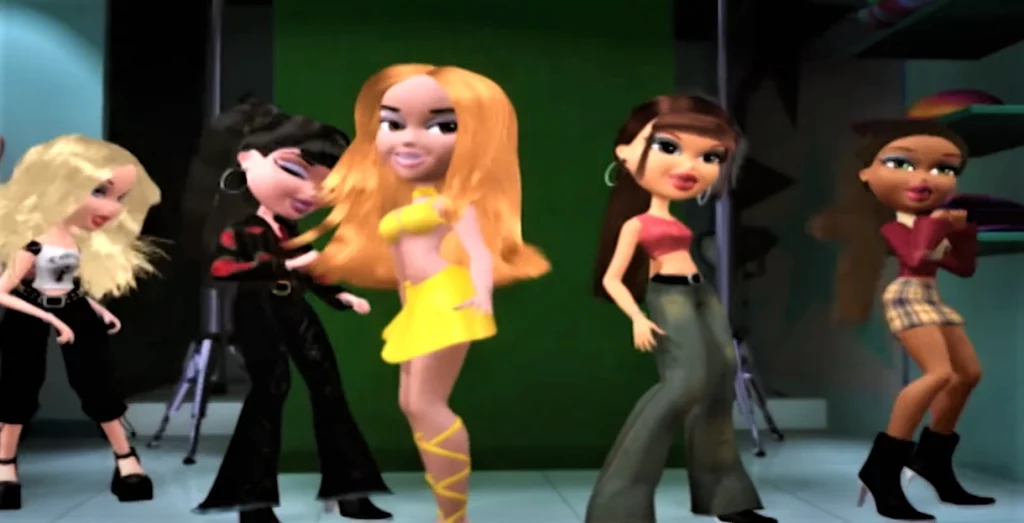 Fun Fact: The archive for my Bratz reviews and notes is 783 pages long. Which I personally find ridiculous.
One of my main point of contentions with this show is that the four girls are dubbed teens with the Passion for Fashion and run their own fashion magazine, but you rarely, if ever see them doing anything related to either of those tasks. They will talk about having to design this, or having to write this article, but showing them actually writing or sewing is rare, if it ever happens. Not even in a montage.
Critics rightly pointed out how shallow, silly, and all around dull the movies and shows tended to be. Especially if you consume a lot of the media at once, it just becomes a swirl of headache-inducing friendship speeches with outfit changes.
Wait, so what is Rainbow High?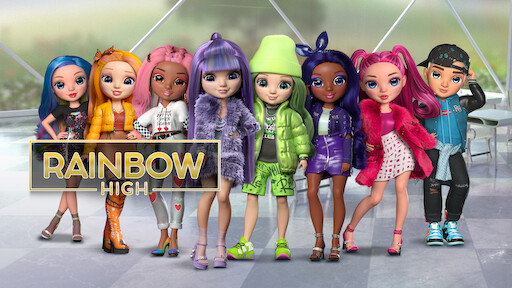 Rainbow High is the newest doll line from MGA. It follows an army of brightly colored young women into the most prestigious creative arts high school in the country. While the show isn't exactly pushing the envelope, it's far and away superior to the Bratz' offerings.
The center of the show is still friendship and there is plenty of teen drama to go around. But at least the show actually depicts the girls working on assignments, being active, and even shows the results of their work. Whereas it was typical for the Bratz to hold up a copy of a magazine and proclaim it their best issue yet, one episode of Rainbow High actually contains an entire fashion show where the girls do two-look outfits while a voiceover talks about their insecurities and how they try to manage them.
Fun Fact: Sunny is my favorite Rainbow High student. Not just because of her Sailor Moon hairstyle. But because she is so annoyingly perky and optimistic she reminds me of me.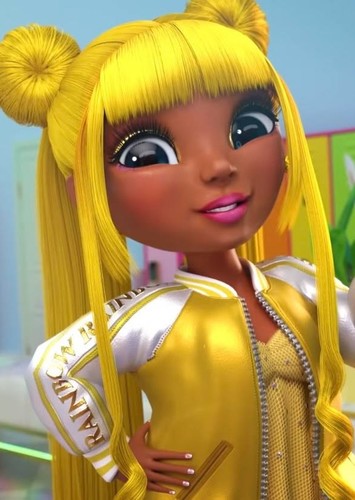 The animation is not perfection. But so many years on from Bratz, it looks worlds apart in quality. Every so often there's an awkward moment where long skirts act like anything other than a long skirt, but really, that's as bad as it gets.
Is the show watchable, dare we say, enjoyable?
Yes and maybe.
I realize I am not at all the intended audience for this show. At all. But the vibrant colors and low-stakes storylines are rather comforting to watch sometimes. Do I recommend adults run out to watch Rainbow High on Netflix right now? Of course not. But if kids media is kind of your thing, this might be your thing, too.
So, why do you watch these kids show again?
Not sure.
I've realized that someone can tell me about the newest, hottest, most critically-acclaimed show on streaming and tell me I simply must watch it, only for me to go hunting for one-star reviewed Netflix movies instead. Is my brain broken? Did I warp it all with Mystery Science Theater 3000 as a child? No idea.
Is it super fun to hear the old, "WHAT? You haven't seen [insert mega popular movie here]?!" all the damn time? No. Although I would like a little appreciation for the fact I don't try to shame people for not watching what I watch. Because I don't do it, but I could be all:
"What do you MEAN you've never watched a Ross Hagen movie?! None of them!?! How do you LIVE??"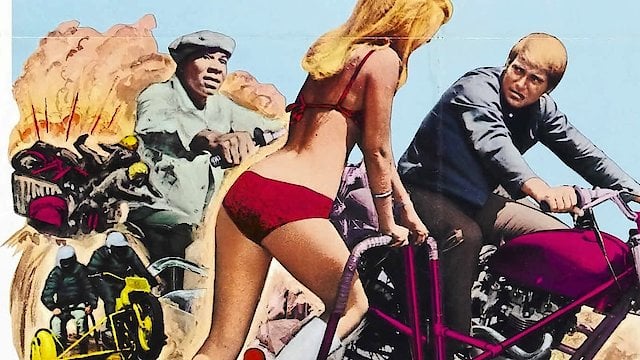 I forgot what the point of this blog was.
Welp. Stay safe, kids, and remember to floss!