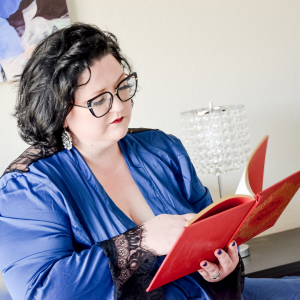 Star LaBranche struggles to write biographies. She also struggles with overthinking. These two facts are probably linked.
Facts & Trivia
Star was born in Washington State, one brisk evening in September, right around dinner time.
A Navy brat, she moved to Pennsylvania for several years, before settling in Virginia.
A Hampton Roads resident most of her life, in 2022 Star and her husband decided it was time for a change. A big one. They packed up their three cats, all their belongings, and moved to Mesquite, Texas.
Star holds two bachelor degrees, one in English Literature and one in Business Management. She longs to go back to school, but at this point, it would be a ridiculously expensive hobby.
A lifelong writer, Star remembers penning her first novel at the age of 12 in a version of Microsoft Word that didn't have spell check. Thankfully, it has been lost to time.
For three years, Star owned and operated a daily blog called Scrapbook of Truth. It featured a variety of topics, with her Men of OkCupid series as one of the most popular.
During the Scrapbook of Truth days, she once decided to see how much she was actually writing in a week. Without changing her writing habits, Star racked up over 52,000 words in the space of a week, with 11,000 words on one day alone.
When she's not writing, Star enjoys customizing websites, like this one, cooking, baking, planning, and reading.
Her favorite kind of movies are Christmas romance movies. Not the good ones. The silly, not-so-great ones. They are magical.
---
Social Links & Contact